December 1, 2015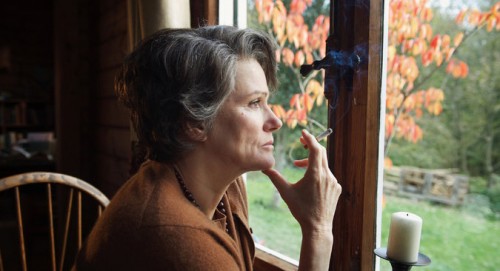 In a column on Psychology Today, Pamela Katz, screenwriter of the film Hannah Arendt (pictured above) and author of the book The Partnership: Brecht, Weill, Three Women and Germany on the Brink (Doubleday/Nan A. Talese) asks :"Why do people commit acts of evil? How can we stop them? What are the social conditions permitting an organized group of people to justify—even celebrate—murder and destruction?"
In her compelling essay, Confronting Evil, Again, she cites Hannah Arendt, the sub ject of her critically acclaimed and award-winning film:
"Philosopher Hannah Arendt's phrase, "the banality of evil," famously defined the concept of how hundreds of thousands of "ordinary' citizens could participate in World War II's genocide. When Arendt was witnessing the trial of Adolf Eichmann — a Nazi who organized the transportation of innocent civilians to Hitler's extermination camps — she raised the question still confronting us today in the aftermath of Paris, Mali, Beirut and most recently as we held our breath over Brussels: how do we simultaneously acknowledge the "unspeakable horror " of the crimes committed against innocent non-combatants, with the apparent ordinariness of those who initiate and carry out such unspeakable atrocities?"
December 1, 2015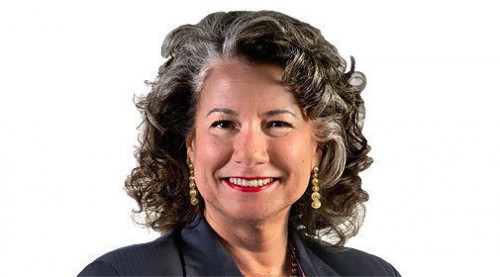 On Wednesday, December 2, at 6PM, Katie Halper interviews Dr. Gina Barreca on THE KATIE HALPER SHOW(WBAI). They will discuss the dearth of female political comics. A Professor of English and Feminist Theory at the University of Connecticut, Dr. Barreca is the author of It's Not That I'm Bitter: How I Learned to Stop Worrying About Visible Panty Lines and Conquered the World (St. Martin's). She has appeared on 20/20, The Today Show, CNN, the BBC, Dr. Phil, NPR and Oprah to discuss gender, power, politics, and humor. Her earlier books include the bestselling They Used to Call Me Snow White But I Drifted: Women's Strategic Use of Humor and Babes in Boyland: A Personal History of Coeducation in the Ivy League in addition to the six other books she's written and the sixteen she's edited
A Podcast of the show will be available on Katie Halper's website. 
Called "smart and funny" by People magazine and "Very, very funny. For a woman," by Dave Barry. Dr. Barreca was deemed a "feminist humor maven" by Ms. Magazine and Wally Lamb said "Barreca's prose, in equal measures, is hilarious and humane."
Katie Halper has been "cute and somewhat brainy" by The National Review (of all people). She is a new kind of radio personality. A mash-up of Bill Maher and Emma Goldman, she uses humor as a portal to serous issues and serious issues as a portal to humor. In the process she eviscerates as she illuminates.
Halper's weekly WBAI show (6 pm on Wednesdays) takes a humorous look at the news, politics, pop culture, and the arts through news segments and conversations with writers, journalists, activists, artists and political comedians. In addition to interviews with guests like Margaret Cho, Ta-Nehisi Coates , Halper writes and performs sketches like "Excuse You," "Right Wing Erotica," "Family Values,"  and "The Sixty-Second Rant."
            About Katie Halper
Born and raised on the mean streets of New York City's Upper West Side, Katie Halper is a comedian, writer, filmmaker and history teacher based in New York. A co-founder and member of the comedy ensemble Laughing Liberally, Katie has performed at Town Hall, Symphony Space, The Culture Project, D.C. Comedy Festival, and The Nation Magazine Cruise. Katie's writing and videos have appeared in Salon, The New York Times, Comedy Central, The Nation Magazine, Jezebel, Guernica, Alternet, Raw Story, Feministing and more. Katie appears regularly on HuffPost Live as well as MSNBC, RT, the Alan Colmes Show, Sirius radio (which hung up on her once).
Katie co-produced Tim Robbins's film Embedded, (Venice Film Festival, Sundance Channel); Estela Bravo's Free to Fly (Havana Film Festival, LA Latino Film Festival); was outreach director for The Take, the Naomi Klein/Avi Lewis documentary about Argentine workers (Toronto & Venice Film Festivals, Film Forum); co-directed New Yorkers Remember the Spanish Civil War, a video for Museum of the City of NY exhibit.
Katie attended the Dalton School, where she has taught history, and Wesleyan University, where she learned that "labels are for jars."
More about Gina Barreca:
Her books have been translated into several languages, including Chinese, Spanish, Japanese, and German. Gina, whose weekly columns from The Hartford Courant are now distributed nationally by the McClatchy-Tribune Syndicate, is a Professor of English and Feminist Theory at the University of Connecticut. She won UConn's highest award for excellence in teaching and has lectured worldwide as the authority on gender difference in humor. Barreca has delivered keynotes on this topic at universities from Princeton to Perth. Her greatest strength, however, is connecting with her large and growing audience. She has delivered, often as a repeat guest, keynotes at events organized by The Erma Bombeck Writers Workshop, the National Writers Workshop, the Women's Campaign School at Yale and the National Association of Independent Schools, The Chicago Humanities Festival, Women In Federal Law Enforcement, Chautauqua and The Smithsonian–to name a few.
Barreca's B.A. is from Dartmouth College, where she was the first woman to be named Alumni Scholar, her M.A. is from Cambridge University, where she was a Reynold's Fellow, and her Ph.D. is from the City University of New York, where she lived close to a good delicatessen. As a columnist and blogger, Gina writes regularly for Psychology Today, The Chronicle of Higher Education and The Huffington Post; she has also written for The New York Times, The Independent of London, Cosmopolitan, and The Harvard Business Review. A member of the Friars' Club, a "Voices and Visions" honoree of the Connecticut Women's Hall of Fame and the first female graduate of Dartmouth College invited to have her personal papers requested by the Rauner Special Collections Library, Gina can be found in the Library of Congress or in the make-up aisle of Walgreens.
November 3, 2015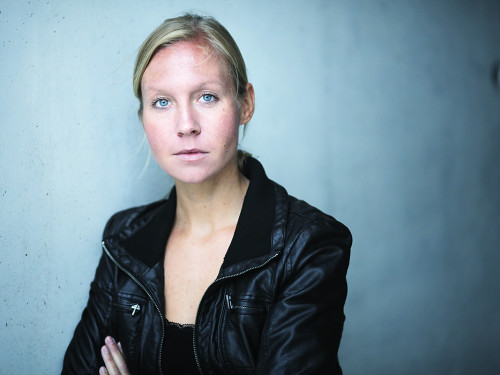 Michael Kingsley has been writing, arranging and producing music for over twenty five years His songs are about "romance and love and the vagaries thereof," he says. Some of the songs have spiritual subject matter. "Other songs are pictures taken in the moments of people in especially poignant situations," he adds.
As a producer, Kingsley has worked with singers in almost every genre – classical, pop, rock, jazz, r&b, country, musical theater and hip hop.
Along came Toni, a German actress and singer from East Berlin. When Michael met Toni in November 2013, he was impressed by "her husky, smoky voice somewhat reminiscent of a young Marlene Dietrich with echoes of the Weimar cabaret period with a very slight sprinkling of a German accent," he says. Because of her unforgettable instrument along with her personal depth and her ability to "alternately seduce you and break your heart in the same song", the composer found in Toni an excellent interpreter of his songs.
Toni, who has released two singles with Kingsley (the third one is scheduled to come out at the end of November) has been waiting to receive an artist visa for the USA for over fourteen months. Kingsley says that even though "the commercial sensibility in Europe seems to be more open to poetic expression than in the US, New York offers the most stimulating artistic environment there is. "For Europeans, it might also be a way to a freer, classless feeling with fewer limitations on the artistic self," he says.
Kingsley believes that Toni brings a certain "Europeaness" to his songs and that she provides "a strong but delicate and incredibly honest and tender reading for the ballads and a playful, sensual, edgy attitude for the rhythm ballads and uptempo songs.
At his studio in New York City, Kingsley is currently working on the arrangements of two additional and "distinctly different" songs that he composed for her. "A brand new melody that I hear her voice on just came to me this morning," he says. He believes that Toni is definitely is on her way to "stir up New York's music scene with her "disturbingly beautiful timbre that is hauntingly delicate. Listener, beware."
You can hear Michael and Toni's music here:
http://www.cdbaby.com/Search/bWljaGFlbCBraW5nc2xleQ%3d%3d/0
October 28, 2015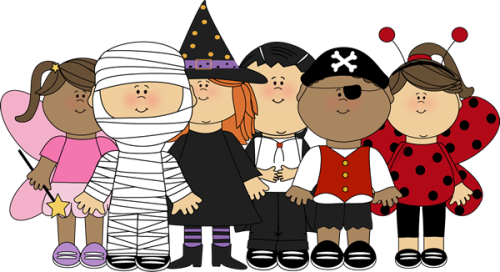 Someone told me about Skip Kid and I just had to have a look. I'm not in the little kid business anymore because my children are 18 and 24 but I still like to help out the parents with young kids I know. So here's the story of how Skip Kid got started.
Two moms met eager to get out of the house with their little ones, they searched online for local activities

"I wonder what's happening in my neighborhood today…"

They found information that was out of date and incomplete; they found activities too far from home.

"We'll never make it all the way to another neighborhood between naps!!"

"This information is from 2010!!!"

So they determined to do it better, they set to work creating skipkid, an up-to-date drop-in activity guide for parents and caregivers.
The line about "This information is from 2010!!!" really cracked me up.
Just saying.
I checked out the Skip Kid blog and it's chock a block full of activities for parents and kids all over Brooklyn. At the moment they've got lots of stuff about Halloween. Reading the blog was a trip down memory lane reminding me of the stuff I used to do with my kids when they were little.
Sigh.
Skip Kids wants to make the lives of parents and caregivers a whole lot easier. Parents can check in daily for drop-in activities in neighborhoods throughout Brooklyn so everyone can have more fun.
Cool.
October 28, 2015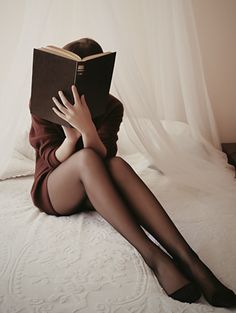 Don't miss the sexiest literary event in the borough! On November 5 at 7PM, Books in Babeland  (462 Bergen Street, between Flatbush and Sixth Avenues, BK 11217, (718) 638-3820) presents writers Katie Halper, Athos Cakiades, Karen Ritter and Gabriel Arana, who will read while you enjoy cocktails and sweets. Cakiades reads "I Loved my Cellmate" about an unlikely affair with his cellmate in a maximum security prison in Miami.
Fasten your seatbelts. It should be a great night. RSVP for this free event at Eventbrite. 
Arrive early; the first ten guests will receive a free gift. Curated by Louise Crawford.
About Katie Halper: Born and raised on the mean streets of New York City's Upper West Side, Katie is a A New York based comedian, writer, filmmaker and history teacher, Katie is a co-founder and member of the comedy ensemble Laughing Liberally, and has performed Town Hall, Symphony Space, The Culture Project, D.C. Comedy Festival, and The Nation Magazine Cruise. Her writing and videos have appeared in Salon, The New York Times, Comedy Central, The Nation, Jezebel, Guernica, Alternet, Raw Story, Feministing and more. Katie appears regularly on HuffPost Live as well as MSNBC, RT, the Alan Colmes Show, and Sirius radio (which hung up on her once).
About Athos Cakiades: A freelance writer who spent ten months in federal prison for conspiracy to commit mail fraud, Athos acted as a reference for a DVD rental machine (similar to a Redbox), though he didn't own one, after being told it was not illegal. He helped to sell 3.5 million dollars worth of the machine even though he had never seen one in operation. He was twenty-three years old at the time. Acting and comedy are things he does now. He has studied acting at T. Schreiber Studio and improv at The Magnet, The PIT, The UCB. He hosted an indie improv night at The Queen's Secret Improv Club. His one man show featuring nine original characters, "Cock of the Walk," was a critic's pick in Time Out New York. In addition to his prison memoir, "Exconomy," he is also working on a YA novel.
About Karen Ritter: A veteran of advertising (and Books in Babeland), Karen has squandered decades crafting copy for clients as diverse as Dunkin' Donuts and Weight Watchers. Persuading some people to gain weight and others to lose it eventually created a psychic split, galvanizing Karen to take refuge in fiction. She currently divides her time between two novels, The Other Ingrid Bergman and The Rabbi's Assistant. Her humor pieces have been published in The Morning News and The Big Jewel.
About Gabe Arana: A senior media editor at The Huffington Post, Gabe's work has appeared in numerous publications including Salon, The Nation, The American Prospect, The New Republic, The Atlantic, Slate, and The Daily Beast. He is the recipient of the National Lesbian and Gay Journalist Association's 2014 award for feature writing and was nominated for a GLAAD Media Award for his feature on the Proposition 8 case in California in 2010. He has been a guest on television and radio talk shows including MSNBC's Rachel Maddow, CNN's Starting Point with Soledad O'Brien, and NPR's Talk of the Nation. Gabriel holds a bachelor's degree in linguistics from Yale University. He is a native of Nogales, Arizona and lives in New York City
About Babeland: Claire Cavanah and Rachel Venning opened the first Babeland store in 1993 in response to the lack of women-friendly sex shops in Seattle. The store offered top quality products, a pleasant place to shop, and most of all information and encouragement to women who wanted to explore their sexuality. The store's popularity with both women and men has led to stores in Manhattan and Brooklyn, plus a thriving and educational website.
About Books in Babeland: A thrice-yearly series at Babeland Brooklyn presenting authors on sex, love, and desire curated by Louise Crawford.
October 13, 2015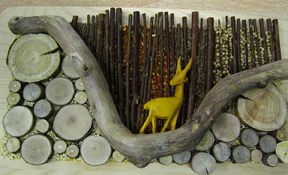 This weekend (October 17-18, noon until 6 p.m.) my neighbor Bernette Rudolph will open her studio for all to see as part of the annual Gowanus Open Studios 2015.
On your visit, you will get to see how this artist transformed her typical Park Slope apartment into a working studio. In addition, you will experience the unique artistic point of view—in sculpture and prints—of this elderly artist of great distinction.
Rudolph's basic medium is wood. Over the past fifty years, she has pursued many themes and subjects for her work, researching and exploring ideas that were meaningful to her at various stages of her life. "Wood has always been part of all my work, used for itself or as a component of the image," she writes
She is expert at both a band saw and a scroll saw and uses fine wood, as well as discarded wood found on beaches. "Wood presents a challenge that continues to test my skills," she writes.
Rudolph is also a master printmaker. In addition to being an exhibiting artist, she teaches art to children in her home. Her studio is located at 457 Third Street betwee Sixth and Seventh Avenues For more information, go to Bernette Rudolph.com or bernette(at)earthlink(dot)net.
To learn more about the Open Studios, which are in Gowanus, Park Slope and Windsor Terrace and all the participating artists, click on this link: http://onlytheblogknowsbrooklyn.com/wp-admin/post.php?post=60246&action=edit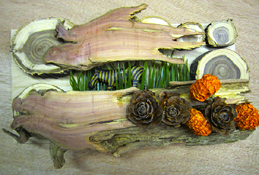 October 7, 2015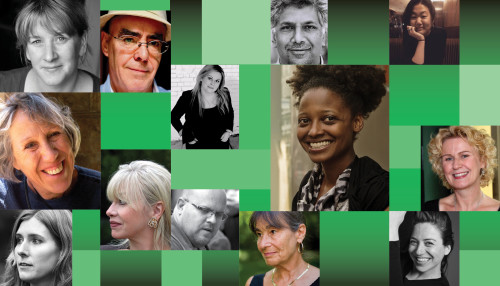 Immerse yourself in poetry the weekend of November 6-8, 2015.
Irish Arts Center presents the seventh annual POETRYFEST celebrating Ireland and America's great literary connection by showcasing an array of superb poets from both countries. The only New York festival of its kind, PoetryFest brings audiences and poets together for three days of readings, conversations, and signings in the intimate atmosphere of Irish Art Center. 
Here's what makes POETRYFEST special:
—New York's only three-day festival of poetry
'—Most of the events are FREE
—Curated by poets Belinda McKeon and Aengus Woods.
—Presented in association with Literary Hub and Glucksman, Ireland House at NYU.
—Listen and converse with acclaimed poets in an intimate setting.
—Enjoy Friday night's gala of favorite Irish poems read by all the poets and specially selected celebrities (to be announced). This event is not free, it's a fundraising gala.
—Hear and meet acclaimed and award-winning Irish and American poets, including Fiona Benson, Ciaran Carson, Elaine Feeney, Leontia Flynn, Alan Gillis, Kerry Harle, Lucy Ives, Alicia Ostriker, Connie Roberts, Tracy K. Smith, Vijay Seshardri, Gjertrud Schnackenberg, Wendy Xu
—After each event the poets will gather in the gallery to mingle with the audience and sign books.
October 7, 2015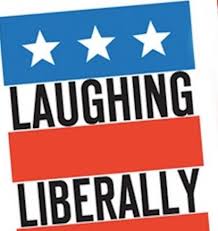 The best political comedy show in NYC, The Laughing Liberally Lab features comedians from Comedy Central, MTV, David Letterman, Funny or Die, The Onion, MSNBC, the Huffington Post.
Join us on Wednesday, October 14 at 8PM, the day Hillary and Bernie duke it out. With John Fugelsang (Sirius Radio host), Frank Conniff (Mystery Science Theater), Mike Brown (NY Comedy Fest), Julianna Forlano (The Julianna Forlano Show), Travis Irvine (The Guardian) Rae Sanni (It's About Us podcast) Hosted by Katie Halper (MSNBC).
Laughing Liberally
Wednesday October 14th at 8PM at The Commons Brooklyn at 388 Atlantic Avenue between Hoyt and Bond Streets. FREE.
October 7, 2015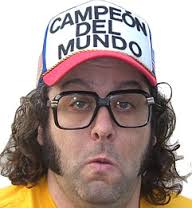 This week on The Katie Halper Show on WBAI, Katie chats with the "terrifically entertaining" (New York Times) Judah Friedlander. The comedian, actor, cartoonist, photographer, and author  (30 Rock,  Wet Hot American Summer, American Splendor., How to Beat Up Anybody) will riff about politics, life, comedy and his new book,  If the Raindrops United (Hachette Books, October 2015), a  collection of hilarious and scathing drawings and cartoons, which Tina Fey calls "in the grand '70s tradition of B. Kliban" and predicts "will probably fix the world." 
THE KATIE HALPER SHOW
Where serous people can be funny and funny people can be serious.
Called "hilarious" (The Nation) and "cute and somewhat brainy" (The National Review, of all places) standup comedian, filmmaker and writer Katie Halper is a mash-up of Jon Stewart and Emma Goldman, using comedy to get into serious issues and news stories.  Her weekly WBAI show (6 pm on Wednesdays) takes a humorous look at the news, politics, pop culture, and history through news segments and conversations with  guests that include Margaret Cho, Nate Silver, Ta-Nehisi Coates, Jelani Cobb and other writers, journalists, activists, artists and political comedians.
Born and raised on the mean streets of New York City's Upper West Side, Katie is a A New York based comedian, writer, filmmaker and history teacher, Katie is a co-founder and member of the comedy ensemble Laughing Liberally, and has performed Town Hall, Symphony Space, The Culture Project, D.C. Comedy Festival, and The Nation Magazine Cruise. Her writing and videos have appeared in Salon, The New York Times, Comedy Central, The Nation, Jezebel, Guernica, Alternet, Raw Story, Feministing and more. Katie appears regularly on HuffPost Live as well as MSNBC, RT, the Alan Colmes Show, and Sirius radio (which hung up on her once).
 Katie attended the Dalton School, where she has taught history, and Wesleyan University, where she learned that "labels are for jars."
Listen to Katie's show here: 
https://itunes.apple.com/us/podcast/the-katie-halper-show/id1020563127?mt=2
October 5, 2015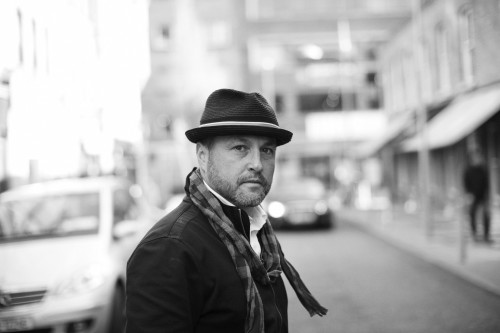 Paul Muldoon, Pulitzer Prize winning poet and poetry editor for The New Yorker curates and hosts Muldoon's Picnic the second  Monday of each month at Irish Arts Center at 553 West 51st Street in Manhattan.
On October 12th at 7:30 p.m., Muldoon's Picnic will feature author Colum McCann author of  Let the Great World Spin, winner of the National Book Award. His new book Thirteen Ways of Looking is just out.
This omnium-gatherum of words and music also includes Portland-born poet Michael Dickman, fiddler and violinist Dan Trueman, Indie Neo Folk band Damsel and Rogue Oliphant, a spoken word ensemble featuring Paul Muldoon. You're in for a treat as Paul Muldoon leads this night of half musical, half literary revelry.
For more information: irishartscenter.org
September 30, 2015
My friend Eleanor Traubman is a wonderful tutor. She's smart, patient, compassionate, creative and fun. If you child is in need of school help or wants to develop confidence and joy about reading and writing, give Eleanor a call. I give her my very highest recommendation.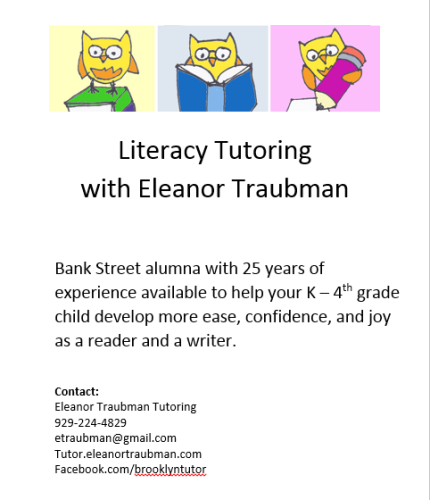 September 28, 2015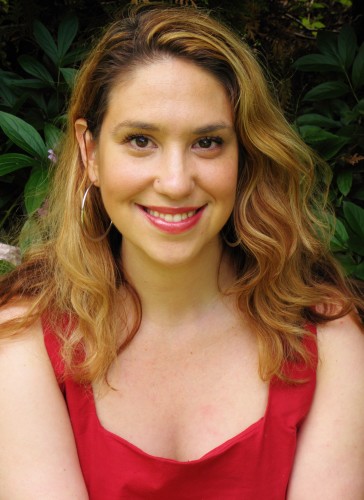 Called "cute and somewhat brainy" by The National Review (of all people), KATIE HALPER is a new kind of radio personality. A mash-up of Bill Maher and, er, Emma Goldman, she uses humor as a portal to serous issues and serious issues as a portal to humor. In the process she eviscerates as she illuminates.
This week Katie is joined by AL GIORDANO, who will speak on behalf of Narco News and the nonprofit Fund for Authentic Journalism to announce that they're taking their 27,000+ Facebook followers to Tsu as a response to Mark Zuckerberg banning links to his upstart competitor. On Katie's show, he plans to invite "all of New York City to join us in the exodus." Giordano is a journalist who operates the Narco News Bulletin, reporting on the War on Drugs, the political blog The Field, reporting on American politics, and the School of Authentic Journalism.
She will also interview NATASHA LENNARD, a former freelancer at the New York Times, who helped the newspaper cover the initial Occupy Wall Street protests. She was arrested during the Brooklyn Bridge demonstration while reporting on the event. She now writes for Fusion.
The Katie Halper Show on WBAI (6 pm on Wednesdays) takes a humorous look at the news, politics, pop culture, and the arts through news segments and conversations with writers, journalists, activists, artists and political comedians. Upcoming guests include Ta-Nehisi Coates on October 28th and Judah Friedlander (TBD). Katie also writes and performs sketches like "Excuse You," "Right Wing Erotica," "Family Values,"  and "The Sixty-Second Rant."
Born and raised on the mean streets of New York City's Upper West Side, Katie is a comedian, writer, filmmaker and history teacher based in New York. A co-founder and member of the comedy ensemble Laughing Liberally, Katie has performed at Town Hall, Symphony Space, The Culture Project, D.C. Comedy Festival, and The Nation Magazine Cruise. Katie's writing and videos have appeared in Salon, The New York Times, Comedy Central, The Nation Magazine, Jezebel, Guernica, Alternet, Raw Story, Feministing and more. Katie appears regularly on HuffPost Live as well as MSNBC, RT, the Alan Colmes Show, Sirius radio (which hung up on her once).
Katie co-produced Tim Robbins's film Embedded, (Venice Film Festival, Sundance Channel); Estela Bravo's Free to Fly (Havana Film Festival, LA Latino Film Festival); was outreach director for The Take, the Naomi Klein/Avi Lewis documentary about Argentine workers (Toronto & Venice Film Festivals, Film Forum); co-directed New Yorkers Remember the Spanish Civil War, a video for Museum of the City of NY exhibit.
Katie attended the Dalton School, where she has taught history, and Wesleyan University, where she learned that "labels are for jars."
You can listen to The Katie Halper at these links:
Please rate the show!
Soundcloud where you can follow
September 25, 2015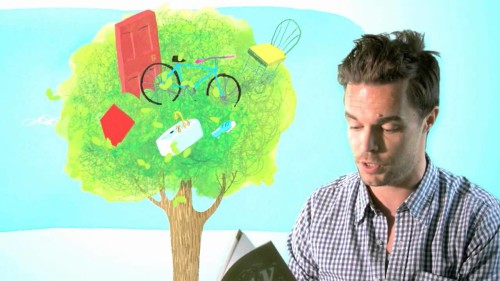 In honor of the 25th Anniversary of the Children's Books Ireland Book of the Year Award, Irish Arts Center introduces its first-ever festival celebrating Irish children's literature!
On October 8th at Irish Arts Center, the very best Irish children's writers recognized at the leading book awards in Ireland, the CBI Book of the Year Awards, are featured at Rí Rá Festival of Children's Literature. Bringing children and families together to creatively engage with literature, the festival encourages readers tall and small to discover new books at readings, talk with those who create them, and share their love for reading. Stay all day, or pop in to play at one of our many free events for kids, teens, and adults.
Rí Rá, Irish Gaelic for "ruckus" or "mayhem," is the perfect word to describe this one-day extravaganza of Irish children's literature.
Authors include Áine Ní Ghlinn, Oliver Jeffers (pictured above), Chris Haughton, Louise O'Neill, Gabriel Rosenstock, and Eoin Colfer (Children's Laureate of Ireland).
Sunday, October 4, 2015
11 am – 4 pm
Irish Arts Center553 West 51 Street, New York, NY 10019
212-757-3318
$5 per person for individual events: Oliver Jeffers (11 am,) Chris Haughton (12 pm,) Gabriel Rosenstock (1 pm,) Aine Ní Ghlinn (2 pm,) and Louise O'Neill (3 pm)
Festival Pass $15 (+ 20% off books)
$50 Festival Family Pass
(2 adults + 2 kids OR 1 adult + 3 kids + 20% off books)
FREE for Junior Joyce & Family Circle Members
September 21, 2015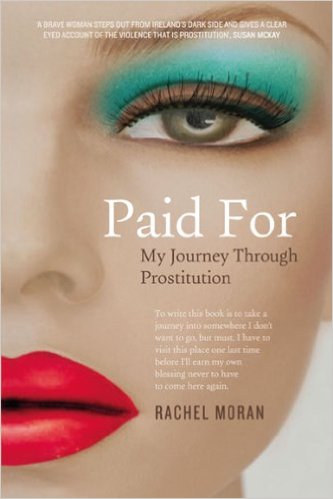 "Thoughtful, highly readable, and provocative….shines a necessary light on a dark and underdiscussed topic."– Kirkus, Starred Review
Bestselling author, sex-trade survivor, and activist Rachel Moran will be at the Irish Arts Center to discuss her new memoir Paid For: My Journey Through Prostitution—a brave, compassionate, and humane account of her time lived as a prostitute in Ireland, her struggle to break free, and the politics and psychological damage associated with selling your body to survive.
Escaping an unstable family and state care, at age fifteen Rachel became homeless. For the next seven years she worked as a prostitute—isolated, drug-addicted, outside of society. Her experience was one of violence, loneliness, and relentless exploitation and abuse. Paid For is an indictment of prostitution and a celebration of a remarkable woman's survival of body and soul.
Rachel Moran grew up and lives in North Dublin. At 22 she started on the path to further education, gaining a degree in journalism from Dublin City University, where she won the Hybrid Award for excellence in journalism. She speaks internationally on prostitution and sex-trafficking and volunteers to talk to young girls in residential care about the harms and dangers of prostitution.
June 26, 2015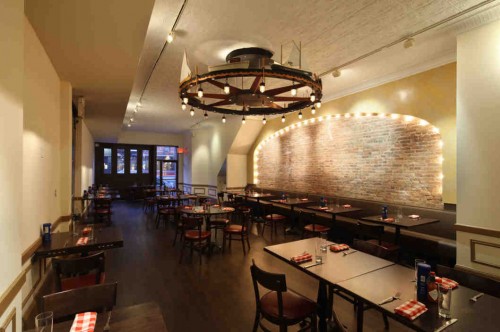 The recent history of Park Slope's Fifth Avenue swirled through my mind while dining at the Grand Central Oyster Bar Brooklyn at 256 Fifth Avenue.
Cucina was one of the first to occupy 256. It was, at one time, Park Slope's only fancy, special occasion restaurant. When they closed, the space, which is three commercial spaces wide, became Tempo and then Fornino, a highly rated gourmet pizza restaurant with tons of cred that still couldn't make a success of that enormous space.
Around 2008, there was talk of an Asian fusion restaurant with the owners of Stone Park Cafe. But that never came to pass, I'm guessing, due to a recession that briefly kicked Brooklyn's butt.
Then, Grand Central Oyster Bar, the New York institution on the lower level of Grand Central Station, decided to drop anchor in Park Slope. What? It seemed such an intriguing if strange idea?  How could the Oyster Bar make sense in Park Slope?
I was familiar with the Oyster Bar from the days my father worked in the Pan Am building and we'd meet for an elegant and quick lunch at the Oyster where we'd have clam chowder at the counter. What fun that was.
Grand Central Oyster Bar Brooklyn (GCOBB) opened its doors in December 2013. Interestingly enough, the original Oyster Bar first opened its doors in 1913 almost exactly 100 years before. Seems that the Brooklyn Oyster Bar is some sort of franchise. Here from their website an interesting quote from Jerome Brody, Founder of Grand Central Oyster Bar & Franchising:
In 1974, when I was approached by the New York Metropolitan Transit Authority to take it over, the old restaurant had been bankrupt and empty for two years, having become in its last days not much more than a sad, old coffee shop.

To prepare for the decision, my wife and I toured the best-known seafood restaurants in Manhattan, Brooklyn, New Jersey, and the rest of the metropolitan area, and they were invariably full–even when the cuisine was ordinary. This is why I decided to take a chance–the same kind of chance I had taken with restaurants such as the Forum of The Twelve Caesars, the Rainbow Room, the Four Seasons, and Gallagher's. And so, in 1974, I entered into a lease with the MTA, and embarked on inventing the Grand Central Oyster Bar & Restaurant.
According to Michael Slimmer, General Manager and a self-described Oyster Bar geek, GCOBB joins franchises in Newark, New Jersey (at the airport) and in Japan, where it is wildly popular.
Slimmer welcomed my daughter and me warmly to the restaurant and we were seated at the white Sarrinen tables and chairs in the bar/restaurant room, which is very attractive with black walls and beautiful lighting. He explained that the big room on the south side of the restaurant is only open on weekends and for special events, including a recent baptism/circumcision. Later he showed us the marvelous chandeliers that are from the original Grand Central Oyster Bar.
The food was delicious, sizes ample. For appetizers my daughter had the crab cakes and I had the steamed clams, which reminded me of being on Block Island. The broth was delicious as were the clams.
For my main entree, I ordered the delicious Pan Seared Extra Large Diver Sea Scallops with Oregano and Buerre Blanc with Sweet Peas and Parmiggiano Reggiano Risotto, which is one of Chef Jamal Bland's specialities. It's a mouthful but a very delicious and savory dish. The scallops were large and fresh and went well with the  tastefully seasoned risotto.
My daughter ordered a medium sized lobster, which she adored.
I had a glass of Chardonnay. I believe it was the J Lohr "Riverstone" 2012 from California. Our server was delightful. A twin from the great state of Florida, he was friendly and very attentive.
I observed what people were eating at other tables and concluded that GCOBB is a perfect place to order a huge shell fish platter to share with friends—a perfect dish for a celebratory meal. It's even a place where you can go on a casual date and order lobster roll or an entree of jumbo lump  crab cakes. I just might do that next time.
And yes, there will be a next time.
GCOBB is the perfect summer restaurant. It'll make you feel like you're on vacation for a couple of delicious hours. Cape Cod, Block Island, Grand Central Station…
All aboard!
Full disclosure: We were treated to our meal by the restaurant. 
June 26, 2015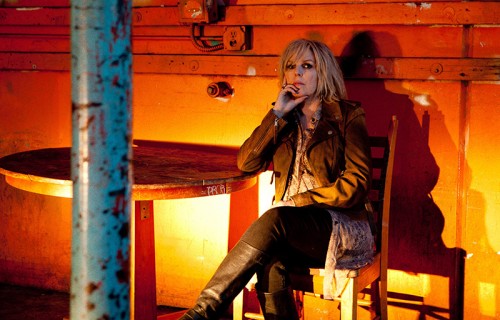 Cherish the experience, folks. Last night at Celebrate Brookyn, we caught more than a wiff of greatness. The sky was dripping tears (someone said it felt like spit) when Lucinda Williams thanked the audience for braving the forecasted rain. But it never turned into a full fledged sqaull. Instead, we got  genius.
For me, it was like seeing Bessie Smith, Billie Holiday, Janis Joplin or Nina Simone in the flesh. This is what a living legend looks like. And alive it was: ninety minutes with one of America's greatest songwriters (it's poetry, really) with a voice like fermented syrup mixed with heartache, disappointment, desire, and a hypervigilent mind.
Cherish the experience, folks.
I saw her in 1998 at Irving Plaza. It was a late show that started an hour late. I had to stand at that famously seatless club. She'd just released her masterpiece Car Wheels on a Gravel Road, an album that took six  years to make and she seemed a testy woman. A famous perfectionist, at one point during the show, she insisted on starting a song over again. She seemed angry with herself and tormented by a quest for transcendence.
That was then, this is now. She's sixty-one with a plume of grey hair wearing tight jeans, a partially buttoned button-down shirt with a long-hanging gold cross. She's bold, confident, poetic and badass. Her virtuosic four-man band perfectly  infused her songs with a rootsy authenticity.
The evening never felt nostalgic like a greatest hits roll-out. Never. A late-bloomer, Lucinda is a living, breathing artist who just put out one of her best albums, Where the Spirit Meets the Bone, written after the death of her beloved father, the poet Miller Williams.
The set touched on songs from a few of her albums but not all of them. She's got a discography that would make the best drool and songs that are true classics of rock poetry.  Older and wiser, she keeps the perfectionism at bay—but make no mistake she strives for excellence while embracing a ragged spontaneity. She's feisty and outgoing when she speaks up for a better world during the song "Foolishness" giving a shout-out to Bernie Sanders, thanking Obama for the Affordable Care Act, and sending condolences to the families of the victims of the Charleston hate crime "because that's what it was," she said.
For me, it's her attention to language and unerring sense of line that is so thrilling. She writes poetic stuff but it doesn't come across as precious or pretentious. I particularly enjoy her use of place names: for for me it's southern geography in action. Here from "Lake Charles":
He had a reason to get back to Lake Charles
He used to talk about it
He'd just go on and on
He always said Louisiana
Was where he felt at home
He was born in Nacogdoches
That's in East Texas
Not far from the border
But he liked to tell everybody
He was from Lake Charles
Did an angel whisper in your ear
And hold you close and take away your fear
She also writes beautifully about sexual longing and desire. Here from "Essence":
Baby, sweet baby, bring me your gift 
What surprise you gonna hit me with 
I am waiting here for more 
I am waiting by your door 
I am waiting on your back steps 
I am waiting in my car 
I am waiting at this bar 
I am waiting for your essence
Her songs can be like daggers. Beware of spurning Lucinda. "One of the great kiss off songs," said the man sitting next to me at the show of this song:
You talk about the junk you did,
Like you talk about climbing trees.
You look like a little kid,
With bruises on your knees.
You will never cop,
To the damage that's been done.
You will never stop,
Cos it's too much fun.
Now you want somebody to be your buttercup,
Good luck finding your buttercup
She opened with two songs I didn't know and her voice sounded off: low octave and slightly off key. We noticed she was drinking from a cup of tea and figured she had a cold or had ravaged her voice from a year of straight touring. But by song number three, "Lake Charles," she was in excellent form. "Drunken Angel" followed and from then on it clear we were in good hands with a performer expert at pacing her set lists.
Surprises? She did fewer ballads than I expected. I would have been up for a night of dark and delirious songs about suicide, sexual longing and people who died too young. Instead, we got an adventurous roster of roots rock, funk, blues, and raucous country. As her father wrote: "The world still doesn't quite know what table Lucinda's work belongs on. She doesn't fit neatly into any of the established categories. She's still a genre to herself, and always will be."
Surprises? She did a slew of inspired covers, including Springsteen's "The Rising," The Clash's "Should I Stay or Should I Go" and Neil Young's "Keep on Rocking in the Free World" (Take that Donald Trump).
At moments during the show I thought of Patti Smith. The two remind me of each other in their dedication to language, authentic feeling and a kind of punk audaciousness. At the end of the evening, Lucinda shouted out: "Power to the people!" and then quickly amended it to "Or as Patti Smith would say, People Have the Power."
Cherish the experience, folks. Last night at Celebrate Brooklyn, we were delivered a deluge of greatness. And it didn't even rain.
June 10, 2015
Slow Food NYC and The McCarren Hotel present the fourth annual SPIRITS OF NEW YORK event featuring spirits made in New York, primarily with principle ingredients grown and produced in New York, or, if not, fair- or direct-traded.
Here's a great opportunity to support a great cause (Slow Food NYC Urban Harvest) and to sample selected regional producers' beverages served up neat or in imaginative cocktails.
The not-for profit Slow Food NYC Urban Harvest program is a good food education for NYC kids at 16 schools, in the Bronx and East Harlem, on the Lower East Side and in Brooklyn, and at a summer educational urban farm in Brownsville.
More than 1,000 Urban Harvest kids each year learn about the importance of good, clean, and fair food to their health, the health of their families and communities, and the health of the planet.
Participating distillers include: Astoria Distilling, Barrow's Intense Liqueuer, Black Button Distilling, Black Dirt Distillery, Breuckelen Distilling, Caco Prieto, Harvest Spirits Farm Distilling, Jack from Brooklyn, Nahmias et Fils, Port Morris Distillery, Van Brunt Stillhouse
When: 7-9 pm on June 15, 2015
Where: McCarren Hotel Rooftop Lounge "Sheltering Sky" – 160 North 12th Street, Williamsburg, Brooklyn, New York, 11249
Tickets: Tickets available at http://sony15.brownpapertickets.com
General Admission – $40 / Slow Food Member – $30
May 14, 2015
Edgy Moms 2015 was awesome. Here is the Edgy Moms Manifesto I read at the beginning of the event every year.
In 2006  I created Edgy Mother's Day. I had sort of a vague sense of what that meant but it's always been hard to articulate when people ask for, y'know, the quick elevator speech.
So what is an Edgy Mom?
She's feisty and fun and a little bit zany. She whines to her friends and can be a bit of a martyr. She fantasizes about taking long trips without her children
And getting a room of her own on Block Island with a computer and a view of the sea.
She lets her kids have dessert before dinner,
Reheated pizza for breakfast.
And NEVER remembers to bring Cheeros in a little Tupperware container to the playground
Except when she does and then she feels VICTORIOUS
Her kids have seen her fight with their dad and yell at her mother and curse her sister on the phone.
They've watched her cry
She's been know to throw away her children's old toys and art supplies when they're not around
And when they ask, she pretends not to know where they are.
But she can't let go of their artwork even that sharp pointy wood sculpture her son made in pre-school back in 1993.
She loves when they sleep over at a friend's house
Because the apartment is so quiet, so serene and so  terribly lonely.
She looks forward to her late afternoon glass of wine
And lets her kids miss school when she feels like sleeping in.
For years she didn't own a First Aid Kit or keep children's Motrin in her bag.
Sometimes she takes a bath when she should be making dinner
Or reads Ann Karenina when she's supposed to be helping with homework.
She watches shows like Gossip Girl and discusses Blair, Serena, Chuck and Dan with her teenage daughter
Even if that's not appropriates.
She doesn't always know what is appropriate.
Sometimes she feels like the most boring person on earth.
Like someone's mother and that's all.
But who could ask for anything more on a good day?
She tries not to tell "my kids are so amazing" stories. Even if they are.
Or say to new moms: "Enjoy it, they're gonna grow up fast."  Even if it's true.
She hates to sound like an old fart, an elderstates-mom or a know-it-all. Even if she is.
Or say:  "Do you mind if I brag?"
Even though there is SO much to brag about
Do you mind if I brag?
She's made a lot of mistakes, some she would never ever admit to anyone.
She's afraid she's ruined her kids somehow. 
That everything is her fault
If only she'd followed those expert books
Or even read them.
And didn't let her kids get away with murder.
She hates to watch them puke, or be in pain, or feel sad when they've had their feelings hurt.
She wants to kill anyone who hurts her child.
Sometimes she even wants to kill her child.
But just for a teeny tiny fleeting second
On a good day.
She tries to make eye contact when they haave a very long story to tell (even when there's so much else she needs and wants to do).
And now that they're in their teens and twenties she practically GROVELS for their attention, for those long stories she used to tire of.
She  loves her kids with a passion that makes her ache, moan, yell and scream, and feel all  gooey inside
Do you mind if I brag?
Oh Patron Saintesses of Edgy Moms: Lucille Ball, Erma Bombeck, Sylvia Plath, Alice Waters, Elastagirl, Lisa Belkin, Smartmom, Eartha Kitt, Morticia Addams, Toni Morrison, Lenore Skenazy, Tina Fey, Shirley MaClaine (in Terms of Endearment), Maya Angelou, Ayalet Waldman, Nina Simone, Cher (in Mask), Cher in real life, Josephine Baker, Susan Sarandon, Liv Ullman, Marge Simpson, Claire Dunphy, Gloria Pritchett and Cameron Tucker in Modern Family and Betty Draper on Madmen and so many more.
Bless this Edgy Mother's Day and bless tonight's readers and writers: Sophia Romero, Lisa Gornick, Julia Fierro, Sean Grover, Jennifer Michael Hecht and Stephanie Thompson: writers who embrace motherhood without sanctimony, without sugarcoating.
Edgy moms all: they are gonna rock you and shock you and make you laugh and make you cry and make you  look at motherhood in a whole mother way.
April 30, 2015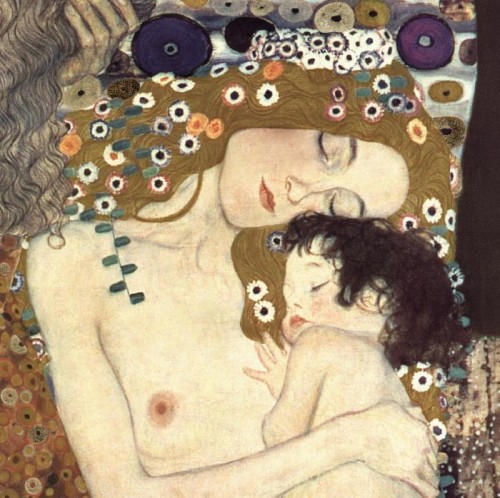 Brooklyn Reading Works presents: EDGY MOMS 2015 provocative writing about mothers and motherhood. Curated and hosted by Louise Crawford and Sophia Romero
Tuesday, May 12 at 8PM
at The Old Stone House, 336 Third Street in Park Slope between Fourth and Fifth Avenues.(718) 768-3195
Directions: F train to Fourth Avenue, R train to Union Street
A $10 suggested donation includes wine and refreshments
This Year's Edgy Moms and Dad:
–Julia Fierro (Cutting Teeth)
–Lisa Gornick (Louisa Meets Bear, Tinderbox),
–Stephanie Thompson (Fearless Parenting)
–Sophia Romero (The Shiksa from Manila, Always Hiding)
–Sean Grover (When Kids Call the Shots)
–Jennifer Michael Hecht (Stay, The Happiness Myth, Doubt)
–Special reading of the Edgy Moms Manifesto by Louise Crawford
April 16, 2015

Last night I attended Poetry and the Creative Mind, an event at Alice Tully Hall, an annual fundraiser for Academy of American Posts. What a special night it was.
My friend Ruda Dauphin was involved and she graciously  invited me to attend this festive gala meant to emphasize "poetry's important place in our culture, and its impact on the lives of readers." Her title at the Academy is Artistic Coordinator and she also curates events for Irish Arts Center.
Chip Kidd, considered one of the greatest book jacket designers, was charming and funny and a perfect master of ceremonies. Jennifer Benka, Executive Director of the Academy spoke briefly about the power of poetry. She mentioned the Academy's online Poem-a-Day, which  presents original, previously unpublished poems by talented poets throughout the week and classic poems on the weekends and reaches 300,000 poetry lovers daily.
I know that's the first thing I read in the morning on my iPhone.
The show kicked off with an impressive poem by Ashley Gong, a 16-year old selected as the 2014 National Student Poet by the President's Committee on the Arts and the Humanities. The daughter of first generation immigrants from China, she is a student at Newtown High School in Sandy Hook, Connecticut. When she introduced her poem, "Preamble" as "an early poem" the audience laughed. "Well, relatively early," she added humorously. Here's an excerpt:
we the members (Hailie, Justin, and I) under this sagging tenement roof
the eaves drooping like disgraced willows on the cusp of giving in.
in order to form a more perfect family picture you know… the one that rests above the mantel its image darkened by soot and wilting from neglect (you know, every time I see that picture, with your hand holding mine, I want to laugh at my naiveté).
From there an illustrious and eclectic group of legendary actors, dancers, artists, musicians, and public figures got up to read their favorite poems.
Holly Hunter, yes Holly Hunter of The Piano and Broadcast News, did a wonderful reading of Mary Oliver's "If I Wanted  A Boat" her sensuous southern voice thick with intelligence and comprehension. Here's an excerpt:
What kind of life is it always to plan
and do, to promise and finish, to wish
for the near and the safe? Yes, by the
heavens, if I wanted a boat I would want
a boat I couldn't steer.
Saying that she'd  rather dance the poems than read them, Judith Jamison, the former artistic director of Alvin Ailey American Dance Theater, did a beautiful reading of Conrad Aiken's "Dancing Adairs." 
Nick Cannon, host of MTV's Nick Cannon Presents Wild 'N Out and author of a new collection of poems for children, Neon Aliens Ate My Homework, read "Dreams" by Langston Hughes, a poem he said, he learned from his grandmother.
Anita Lo, an acclaimed chef and owner of Annisa, a restaurant in Greenwich Village, read three wonderful poems about food. Best among them was a real tour de force called "Fruit Cocktail in Light Syrup" by Amy Gerstler. Here's an excerpt:
Fruit cocktail's
colorlessness, its lack of connection to anything
living, (like tree, seed or leaf) seemed
cautionary, sad. A bowl of soupy, faded, funeral
fruit. No more nourishing than a child's
finger painting, masquerading as happy
appetizer, fruit cocktail insisted on pretending
everything was ok. Eating it meant you embraced
tastelessness. It meant you were easily fooled.
It meant you'd pretend semblances,
no matter how pathetic, were real, and that
when things got dicey, you'd spurn the truth..
Singer/songwriter Sam Beam of Iron & Wine read poems by William Stafford and sang a beautiful self-penned song.
Debra Winger, the deep voiced and soulful actress, so memorably the star of Terms of Endearment, rocked the house with an indelible reading of "Freak-Out" by Lucia Perillo. Here's an excerpt:
Mine have occured in empty houses
down whose dark paneling I dragged my fingernails—
Though big-box stores have also played their parts,
as well as entrances to indistinct commercial buildings
cubes of space between glass yellowing like onion skin,
making my freak-out obscure
Artist Julie Mehretun read Allen Ginsberg's "Five A.M.," She said that it inspired a group of drawings that represented a new phase in her artistic work. Here's an excerpt:
The muses drawing breath for you? God?
Nah, don't believe it, you'll get entangled in Heaven or Hell –
Guilt power, that makes the heart beat wake all night
flooding mind with space, echoing through future cities, Megalopolis or
Cretan village, Zeus' birth cave Lassithi Plains – Otsego County
farmhouse, Kansas front porch?
Buddha's a help, promises ordinary mind no nirvana –
coffee, alcohol, cocaine, mushrooms, marijuana, laughing gas?
Nope, too heavy for this lightness lifts the brain into blue sky
at May dawn when birds start singing on East 12th street –
Where does it come from, where does it go forever?
Then it was Gloria Steinem's turn to enchant the crowd. Clearly she is a great lover of poetry. She thanked the audience and the Academy for making poetry accessible to so many and went on to read Marge's Piercy's "The  low road," which she called a great piece about "organizing." Here's an excerpt:
Two people can keep each other
sane, can give support, conviction,
love, massage, hope, sex.
Three people are a delegation,
a committee, a wedge. With four
you can play bridge and start
an organization. With six
you can rent a whole house,
eat pie for dinner with no
seconds, and hold a fund raising party.
She then read Alice Walker's "New Face," which she said she sends "to all my new lovers." Here's the poem in its entirety.
i have learned not to worry about love;
but to honor it's coming
with all my heart.
To examine the dark mysteries of the blood
with headless heed and swirl,
to know the rush of feelings
swift and flowing
as water.
The source appears to be
some inexhaustible spring
within out twin and triple selves;
The new face i turn up to you
no one else on earth
has ever
seen
Steinem ended with a poem by Robin Morgan, author of Sisterhood is Powerful, called "A Worm of Robins" about aging and death.
Vanessa Williams was also a crowd pleaser with her voluptuous and passionate reading of "'What Do Wome Want'" by Kim Addonizio and Maya Angelous' "Phenomenal Woman."
The great Kris Kristofferson, songwriter, actor, winner of the Golden Globe for his role in A Star is Born—and one mustn't forget his performance in Alice Doesn't Live Here Anymore—rounded out the night with a incredible performance of his song (and Janis Joplin's hit) "Me and Bobbie McGee." Wow.
The crowd responded, at the end of the 90-minute presentation, with a standing ovation. Sitting behind me was Saeed Jones, literary editor of Buzzfeed and author of an acclaimed 2014 collection called Prelude to Bruise,  a finalist for the National Book Critics Circle Award. Somehow that was perfect. The crowd was filled with many poetry luminaries, poetry lovers, and those who support the Academy's mission to promote and appreciate contemporary American poetry.
April 15, 2015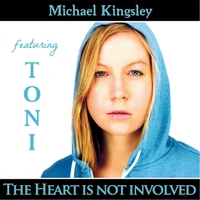 There's something at once ultra contemporary and classic about Toni, who is fast becoming a regular on New York City's alt-cabaret circuit. I was introduced to her work through cabaret singer Karen Kohler, who is very much in the know about the best and the brightest lights musically in New York.
Clearly, it's the haunting, raw quality of her voice, the poetic sensibility of her words, and her magnetic stage presence that astonishes audience. "I feel like her voice reaches me in the deepest places of my soul and pulls me up," raves actress/singer Valentina.
Working with Michael Kingsley, an award-winning composer and producer, Toni will appeal to those who like their love songs edgy and dark. She is equally at home in a cabaret or a Bushwick club. "My songs are about survival and love as the foundation of all that is important," she says.
She approaches her work philosophically. "I believe in the truth and the essence of things," Toni says. "I try to steer clear of the world of created complications, the modern mind dust."
Indeed, listening to her latest work with Michael Kingsley The Heart is Not Involved one feels clear of "mind dust" as the beauty and depth of the singer and her song infiltrate the air. A sweeping orchestral arrangement anchors the song, which is about deep loneliness. The vocal is wrenching and real.
You can listen (and buy) Toni's music at CD Baby. 
February 4, 2015
January 8, 2015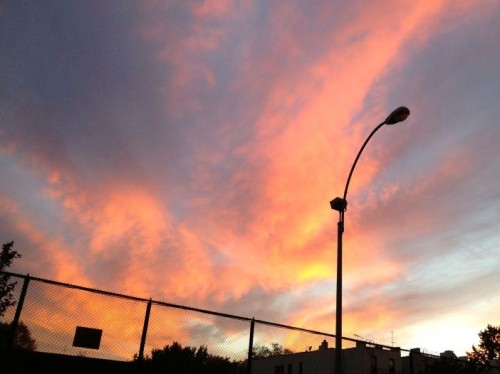 The Park Slope 100 is something I started in 2006. It is now a collaboration with Park Slope Stoop. I want to thank Mary Bakja for helping me continue this great tradition, which tells a nice story about our neighborhood. Kind of an archive of what goes on around here. I had fun coming up with a bunch of these. Great to hear about the people, places and things that Park Slope Stoop brought to the list. Hope this inspires people to seek out the new. It certainly inspires me.
In a neighborhood where you can easily find several inspiring new stories every day of the year, it's hard to choose just a few that represent how Park Slope is such a special place to live.
But annually for the past eight years, Louise Crawford of Only the Blog Knows Brooklynhas managed to do just that with her Park Slope 100, choosing 100 of the most interesting people, places, and things that have made the past year unique.
For the second year in a row, we here at Park Slope Stoop and our sister site South Slope News helped compile the list, and we are proud to be able to share it with our readers and neighbors as well.
If you have any thoughts, corrections, or suggestions for 2015, let us know in the comments, or email us at editor@parkslopestoop.com or Louise at louisecrawford@gmail.com.
Here goes…
Brett and Ashley Affrunti for doing their absolute best for Dottie the dog.
Bishop Ford administrators and current and alumni students for their valiant effort to save the school.
Charles Blow for his consistently intelligent and powerful New York Times op-eds about racial justice and for the publication of his memoir, Fire Shut Up in My Bones.
Blue Lightning for showing us that kids can rock the house, too!
Local bodega cats, in "their own" words.
Josh Breitzer for the glorious music as cantor of Congregation Beth Elohim.
The Brooklyn Cottage, for creating space for a variety of programs — storytelling evenings, cooking classes, meditation gatherings, writing workshops, art exhibitions, and creative "unleashings."
Brooklyn for Peace for presenting Noam Chomsky as the special guest at their 30th anniversary gala in November.
The brown bins! Even if not everyone that can is using them…
Mark Caserta from the Park Slope 5th Avenue Business Improvement District, for advocating for and promoting businesses along the commercial strip — and one of the most familiar cyclists we see zipping along 5th regularly!
Patty Cavallo for being such a tireless advocate for children's cancer research, and for doing a beautiful job honoring her daughter's memory. Ditto for Ellen Hollander-Sande and her son Caleb.
November 22, 2014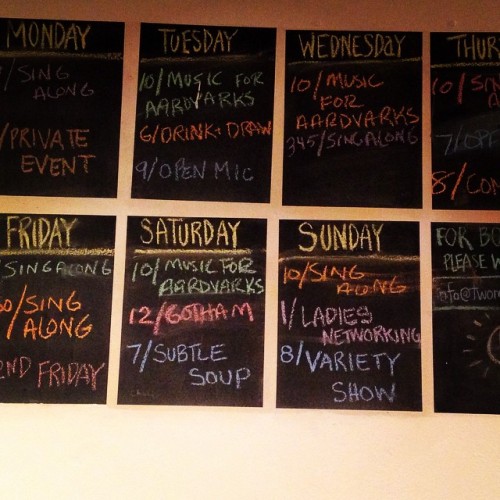 With a name like Two Moon Cafe and Art House, it was easy to think of cafe owners Joyce Pisarello and Danielle Mazzeo as two beautiful moons illuminating a lonely stretch of Fourth Avenue to create a cafe and arts space that would inspire community and connection.
To say that they suceeded would be a vast understatement. Their cafe, which just closed after three years in business served coffee, wine, soups, salads, sandwiches and baked goods. It was busy from early morning to late at night with activities as diverse as children's music classes, Peace Corps meet-ups, life drawing sessions, open-mics for comedians, indie performers, folk singers, poets, writers, and wall space for artists of all stripes. And in recent times, they have become a bakery for their delicious Two Moon Artisanal Shortbreads in various flavors that include coconut and cardamon and, my favorite, rosemary and sea salt.
It was clear the first time I met them that they had just the right amount of humor and energy to sustain this adventure. Sure, the location was dicey but it had potential as developers were madly building co-ops, condos and rental high rises on Fourth Avenue and a Whole Foods was a-coming just a block away. Still, there was not much in the way of pedestrian traffic and another cafe had already occupied that spot and bailed out.
As impossibly young as they were (were they even out of their twenties yet?) Joyce and Danielle had already accomplished quite a bit in their lives and I knew they were up for the wild challenge. There were obstacles a plenty but with humor and resilience they dug in and made something very special in that space.
The two moons met while working in New York City politics  "where they learned they didn't like shaping public policy as much as shaping dough."
Before Two Moon, Joyce served as a Peace Corps volunteer and studied international affairs at Columbia University Danielle earned a degree in Anthropology and Religious Studies at Brown University. She also taught 3rd grade, working for Planned Parenthood, Women's World Banking, the SPCA, and a progressive think tank.
After much soul searching and brainstorming the two decided that hey wanted to open a cafe and provide a space for the arts on the funky west side of Park Slope.
Meeting with them just weeks after opening Two Moon, Daniel and Joyce were all ears about the ins and outs of Park Slope. I gave them a quick Park Slope 101 about the people, places and things that make this neighborhood tick. It was this curiosity and enthusiasm that made their cafe such a popular destination.
I was wistful and sad when I heard that Two Moon was closing. A plumbing disaster and an unhelpful landlord are just two of the reasons that inspired the two to move on (I don't really know the story).  I won't say they called it quits because these two are already plotting their next adventure. Heck, they've got an artisanal shortbread business to run and who knows what else they've got up their collective sleeves.
I want to wish the very best to Joyce and Danielle. Thank you for being our two moons and for illuminating the night and day on a now enlivened stretch of Fourth Avenue (thanks to you). I look forward to whatever lies ahead.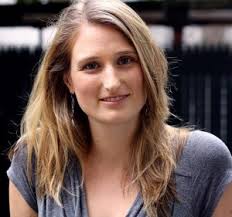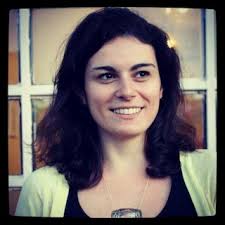 November 15, 2014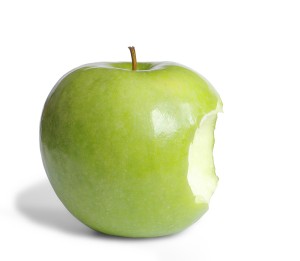 This is a new event for me. It was started by one of my literary heroes, Lauren Cerand, who had the idea to do a monthly event that would bring together the authors of the seasons most anticipated and freshest new books.
In late August, Lauren presented Bridgett M. Davis, Atticus Lish, Emily St. John Mandel, Saeed Jones, Ronna Wineberg and Patrick Hoffman. In October poet Saeed Jones presented Timothy Liu, Anne Helen Peterson, Isaac Fitzgerald and Kevin Fortuna. Now it's my turn.
FIRST BITE: NOVEMBER 17, 6-8PM
Curated by Louise Crawford
at CONTRADA
84 East Fourth Street at Second Avenue
Come hear the first page of a few of fall and winter's freshest and most-anticipated new books. There will be delicious food prepared by Contrada and you can kick back with a cocktail or a glass of wine and enjoy these literary treats.
JOHN BENDITT (THE BOATMAKER, TIN HOUSE BOOKS)
PAMELA KATZ (THE PARTNERSHIP: BRECHT, WEILL, THREE WOMEN AND GERMANY ON THE BRINK, DOUBLEDAY/NAN TALESE)
CATHY GIGANTE BROWN (THE EL, VOLOSSAL PUBLISHING)
GEORGE LERNER (THE AMBASSADORS, PEGASUS BOOKS)
STEPHEN POLICOFF (COME AWAY, DZANC)
BEN ZACKHEIM (THE CAMELOT KIDS)
Doors open at 6. Readings begin at 7. Free appetizers, cash bar and the opportunity to order from a small plates menu. Books will be sold and signed. You're encouraged to introduce yourself to the writers, find out about their upcoming launch events, and, if you fall in love, buy a book or pre-order the book(s) from your favorite independent bookstore. The event is free. RSVP on Eventbrite: http://bit.ly/1sSIsRg
November 12, 2014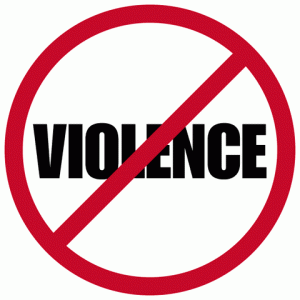 Wordsprouts, the reading series of the Park Slope Food Coop, is presenting a nonviolent communication workshop with Dian Killian  on Friday November 14 , 7-8:30pm. Please note: you don't have to be a member of the Food Coop to participate.
Can you imagine a better way to get ready for Thanksgiving, the December holidays and all those family-centric days ahead? A communication workshop with  Dian Killian could be a real game-changer. She is the co-author of 'Connecting Across Differences: Finding Common Ground with Anyone, Anywhere, Anytime' and the author of 'Urban Empathy: True Life Adventures of Compassion on the Streets of NY.' 
Her credentials are certainly spot-on. Killian is a Certified Trainer with the international Center for Nonviolent Communication. At the Food Coop whe will lead a workshop about about practicing empathy and compassionate communication in every day challenging situations–including the holidays with your family! She will share stories from her book, Urban Empathy, and some practical exercises and tips to help make being heard and connecting with others easier!
See you there. Refreshments will be served. Learn to communicate better.
November 7, 2014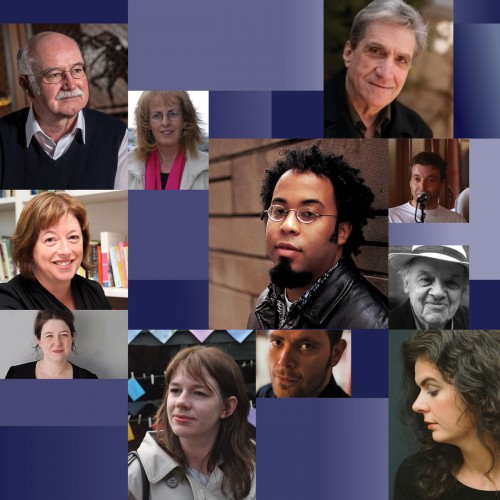 Less than a month ago, I was honored to be asked by Irish Arts Center to help spread the word about PoetryFest, a celebration of poetry from both sides of the Atlantic. I said yes, of course, because I am a poetry lover and I'm a bit of a specialist on getting the word out about literary events.
I also recognized more than a few of the luminaries listed on the roster. When I saw that Gerald Stern, perhaps one of the greatest living American Jewish poets was going to be there, I got excited.
I started collecting poetry books in the the seventies because I fell in with a crowd of poets and writers at SUNY Binghamton, now called Binghamton University. Poets like Milton Kessler, John Verson and Heather McHugh were teachers there. Many others like Tess Gallagher visited the school for readings.
In the 1980s, I discovered the Gotham Book Mart then on West 47th Street, the Diamond Exchange block. There was a sign above the door that said: Wise Men Fish Here. My father gave me a $100 gift certificate as a birthday gift and I decided to spend it all on poetry collections. At the recommendation of Flip, one of the greatest booksellers ever, a Gerald Stern book called Lucky Life, published in 1977. On the cover the poet as a young man walks in Pittsburgh with another poet. Years later I learned it was Jack Gilbert.
What a pleasure to find these words at the end of the title poem:
Lucky life is like this. Lucky there is an ocean to come to.
Lucky you can judge yourself in this water.
Lucky you can be purified over and over again.
Lucky there is the same cleanliness for everyone.
Lucky life is like that. Lucky life. Oh lucky life.
Oh lucky lucky life. Lucky life.
Gerald Stern will be reading his favorite poem tonight at the opening night gala of PoetryFest, as will nine of the participating poets, including Robert Pinsky, Peter Fallon, Rita Ann Higgins, Kevin Young, Adam Fitzgerald and many more. Rosie Schaap, who writes the Drink column for the New York Times and is author of Drinking with Men, a popular memoir, will read a favorite poem, as will Lisa Dwan, who "astonished" in recent Beckett plays at BAM, and Joseph Mitchell.
I expect an ecstatic evening of poetrylove. There will be a gala opening party after. I plan to have shot of Irish whisky if it's offered. PoetryFest goes on all weekend and includes readings, panels and opportunities for casual conversation with some of the greatest poets of our time. He will do a reading with Irish poet Peter Fallon on Sunday, November 9th at 5PM.
Who would want to miss this? For a full schedule of PoetryFest go here. 
October 30, 2014
Two women in Brooklyn open a catering company and their story must be told. They have both worked in numerous and notable professional kitchens and have decided to pool their talents and their passions to open Rustic Supper.
In the beautiful photos on their website, you can practically taste the food and the pleasure it brings.
One of the two is Molly Baz, the daughter of old friends. On Facebook, I have followed the early path of her career as she has worked in professional kitchens in New York City, including Picholine, Allswell, and Glasserie to expand her palate and truly understand the global plate. Her culinary expertise includes classic French cuisine, to rustic Italian, to American gastropub, making stops in Middle Eastern and Asian kitchens along the way.
Molly's partner Amanda Elliott has been working as a private chef and caterer since graduating from The Institute of Culinary Education in 2005. Her globe spanning food emphasizes seasonality, creating memorable meals for two or two hundred.
Together? Well, collaboration, adventurous, fresh ingredients, talent and great energy is all. Just look at their web site and dream about events that would be perfect for this dynamic duo.
For example, dinner could begin with cauliflower fritters with cumin and  date molasses, and steak skewers with aleppo, almond aioli, and thyme. This could be followed by chickpea and yogurt soup with dried mint. And for the main course: leg of lamb, warm spices, garlic, cilantro, charred baby eggplant, tahini, pomegranate,  crispy black rice, dried apricot, shallot, mint.
Dessert sounds divine: cardamom donuts flavored with rosewater and pistachio.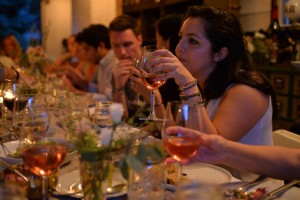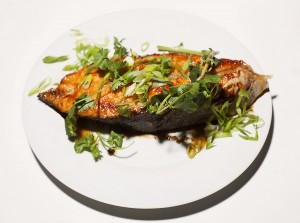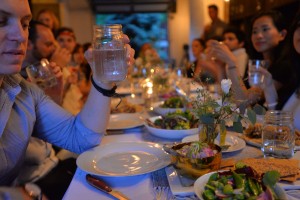 To me, it looks like Rustic Supper excels at creating communal dinners that will inspire conviviality and delight. The food, I must say, looks absolutely delicious.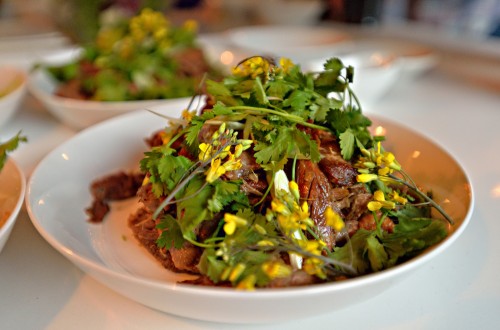 October 28, 2014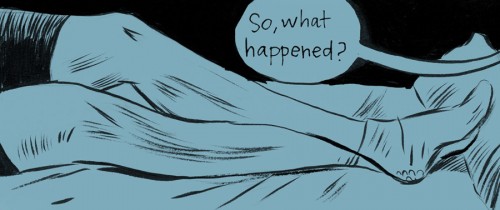 Brooklyn Reading Works in partnership with Words After War Presents: Writing War: A Special Veteran's Day reading with writers of fiction and memoir who served in Iraq and Afghanistan at The Old Stone House/Washington Park. 
This year's writers are: Mariette Kalinowski, Lisbeth Prifogle ,Nate Bethea, Adrian Bonenberger, Eric Nelson, Jacob Sotak and Nebojsa "Vic" Zlatanovic. LTC Peter Molin will host.
For the fourth year, Brookyn Reading Works is the proud host of this important event. Past readings have included 2014 National Book Award finalist Phil Klay, author of the acclaimed book of short stories Redeployment, Roy Scranton, Matt Gallagher, Jake Sigal, Maurice Decauland host Peter Catapano, editor of Home Fires in The New York Times.
To see video by filmmaker Leslie Topping of past Writing War events CLICK here. 
What: Brooklyn Reading Works in partnership with Words After War Presents:
Writing War: A Special Veteran's Day reading with writers of fiction and memoir who served in Iraq and Afghanistan.
When: On Veterans Day, November 11, 2014 at 8PM
Where: The Old Stone House, 336 Third Street, Brooklyn, NY 11215 F train to Fourth Avenue, R Train to Union Street
What else: Suggested donation $10. Refreshments
Words After War is dedicated to building a community of thoughtful, engaged and skilled veteran writers. Through high-quality literary programming, they provide veterans, their families and civilian supporters with the tools they need to tell their stories.
The Old Stone House/Washington Park is on the site of the first, and largest conflict of the American Revolution, A Historic House Trust of New York City site, OSH commemorates the Vechte-Cortelyou House's unique place in Brooklyn and American history.
Brooklyn Reading Works is a monthly thematic reading series presenting emerging and established authors. Produced by Louise Crawford and now in its tenth year, popular BRW events include Edgy Moms, Writing War, New Plays by Brooklyn Playwrights, Funny Pages, Brooklyn Book Festival Book End.
October 22, 2014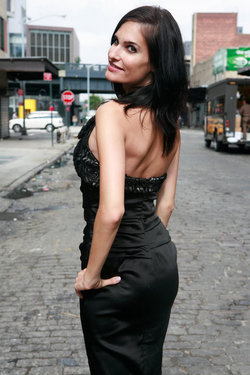 Remember Love American Style, that television sitcom from a few decades ago? The theme song was sung by The Cowsills. Well, fugetaboutit. This story is about love (or getting over it) Italian American style.
Last Saturday night I drove up to Bay Ridge, dropped my daughter and her friend off at Century 21 on 86th Street, and stopped by The Book Mark Shoppe to hear Rachel Russo read from her new book How to Get Over Your Ex: A Step by Step Guide to Mend a Broken Heart Italian American Style. 
Now, how could I resist such a title?
I walked to the back of the bookstore and found an attractive dark haired woman with extremely long legs and high stiletto heels sitting on a chair in the children's section surrounded by a huge crowd of friends, family, fans, and local media.
Rachel Russo is, to put it succinctly, a how-to rock star.
For starters, she's a dating, relationship and image expert with her own boutique coaching business. She's also a matchmaker with a master's degree in marriage and family therapy and a BA in psychology.  She's got the goods.
Indeed, Rachel is a strong, empathic, frank, and funny gal. In her talk, she mentioned that she'd had a very rough breakup and that's what motivated the writing of this book, which provides readers with a solid strategy for getting over your ex as efficiently and wholeheartedly as possible.
Badda Bing, Badda Boom.
Russo has a very direct, self-help approach but she also celebrates Italian-American culture and enjoys talking about her loving parents, Sunday night dinners at home in Bay Ridge, and being stubborn. She writes in the chapter titled: "Make a Case for Stubborness: Have a Head Like a Rock."
"If you didn't settle for any old job, you shouldn't settle for any old relationship. You should be way too proud to go back to your  ex. Ideally, you'd be just as proud as the Italian American bella who'd tell a stunad to "go eff himself" and believe it with every fiber of her being. I know your ex and the breakup may have messed with your self-esteem…and you may not be super-confident. Whatevs. You can "fake it 'til you make it".
In the book, Russo offers tips on being single and loving it, encountering your ex, action steps to take care of your body, mind and spirit, how to attract a better match, and what to do if a Mama's Boy crosses your path("your sex life may resemble that of a teenager").
As you can imagine the book is a fun read. But it's also practical and realistic. At the reading, Russo reminded everyone that getting over an ex takes time and a strong belief in the power of faith, family, food and fathers:
Father figures are an incredible source of wisdom. A father many not coddle you the way a mother would. He may not want to hear all of the details of the breakup but he can give you some unbiased advice. Since many men can be less emotional and more objective, they can really help you heal post breakup. You've already experienced enough emotion. If you want to see things from a more rational lens, go to your father. Chances are, he will tell it like its is.
In Russo's opinion, the biggest threat to your emotional availability is an attachment to your ex. That's why thinking you will never meet someone as special as your ex again is a no-no. "Sorry, your ex isn't that special," Russo writes.
I must say, I enjoyed Russo's no nonsence style and her frank, in-your-face way of expressing herself. She doesn't mince words in person or in the book. Here's from the first chapter:
"Full Disclosure: How to Get Over Your Ex, does not provide an overnight miracle cure. Anyone who tell syou that you can get over a relationship faster than a New York minute is a liar or has never been in love."

That said, Russo give readers a lot to hope for.

"The path to emotional availability starts with a commitment to seeking the truth about who you have been and who you want to be in your love life. You just have to be willing to go a little deeper to find the truth, as there is a deep reason why your relationship didn't work out. If you look within and around to heal yourself, the answers will be revealed to you."